addSorry, Only For US Now, Other Countries Are Out Of Stock.
addUnlimited Flashes & Dynamic Cooling & Painless, hair removal for women & men.
addBest laser hair removal in BoSidin, full body treatment only 10 minutes.
addFDA cleared and clinically proven, safe at home laser hair removal.
addBest permanent hair removal: Pubic hair, legs, arms, underarm, facial and SR mode.
addAdvanced OPT hair removal(the benefits of Laser and IPL technology)
First time: Large area depilation can be done without adding attached head. However, for bikini parts to laser hair removal, please use the bikini accessory head. Second time: SR head with laser photo rejuvenation which can be used after depilation to improve skin problems scientifically.
The best ipl hair remover I have tested.
If you follow the instructions, this will perfectly solve your hair. I used 3 times in 2 weeks, I am very satisfied with the results. Subsequent I plan to continue using it every two weeks until I no longer see the hair growth. I can say that bosidin has changed my life, released and increasing self-confidence!
It works ?
I am very satisfied with this purchase. I have been using this machine for about half a month, I have noticed the change. At the same time, after I use the machine's skin rejuvenation mode, I also think that my skin is better, my pores are more tight.
Loving it so far!
Really like this device. Skin feels softer from the first use. I tested at level 2 and then used level 3 for the first time. Second time went 4 then 5. I used it twice a week for the first 3 weeks. Now, my thighs are regenerating very slowly. Arm hair still needs to be shaved at least once. I really like the auto glow feature! Making it so easy and quick to use. I need about 20 minutes to run a leg, armpit and bikini area. So happy to see the final result!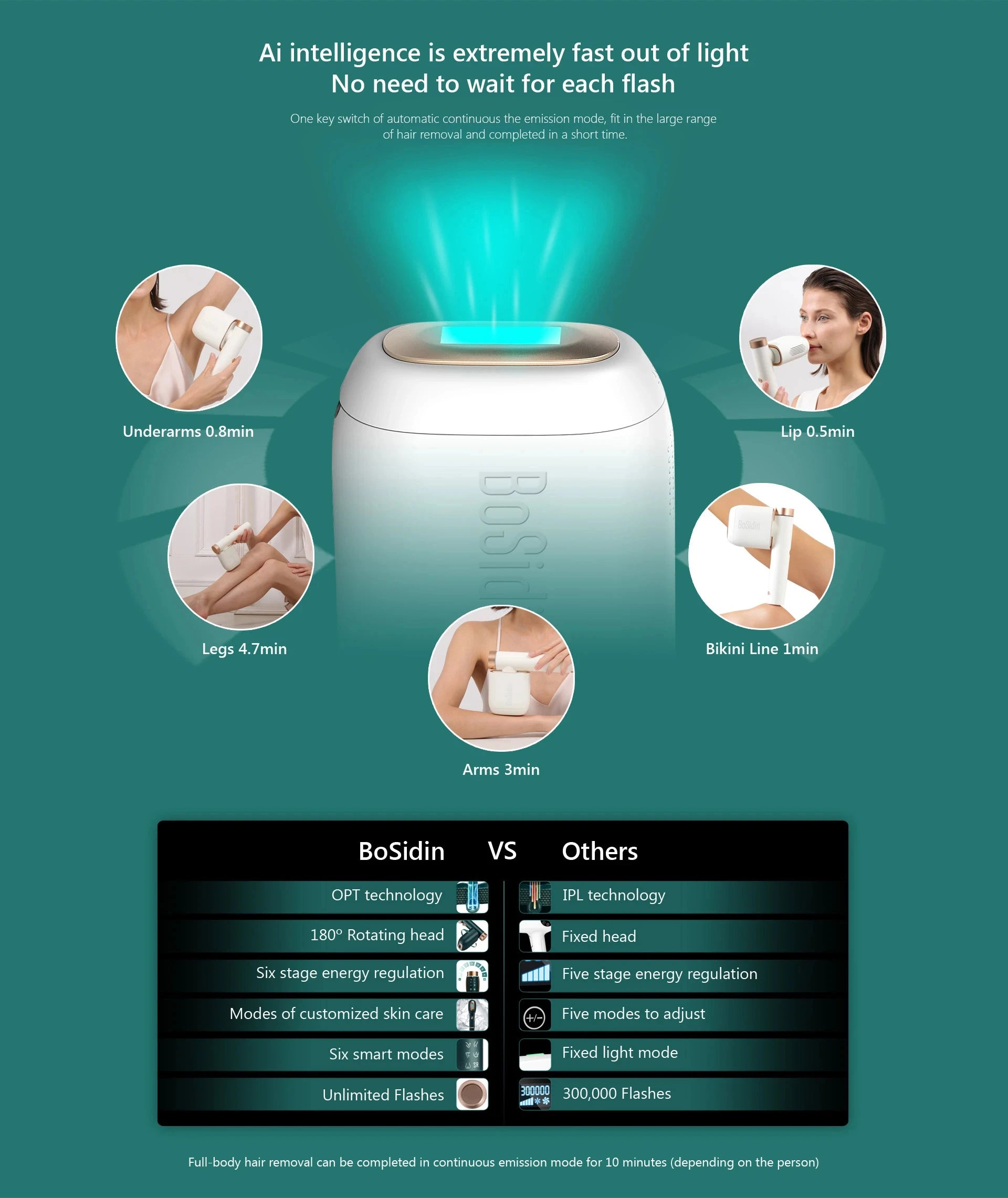 Specifications
Safety Certificate
FDA ※1
Product Size
200*126*51.8 MM
Guarantee
2 Year warranty 180 Days money-back guarantee