addUnlimited Flashes-Longer lasting permanent hair-free results.
addDynamic Cooling & Painless, hair removal for women & men.
addBest laser hair removal in BoSidin, full body treatment only 10 minutes.
addFDA cleared and clinically proven, safe at home laser hair removal.
addBest permanent hair removal: Pubic hair, legs, arms, underarm, facial and SR mode.
addAdvanced OPT hair removal(the benefits of Laser and IPL technology)
First time: Large area depilation can be done without adding attached head. However, for bikini parts to laser hair removal, please use the bikini accessory head. Second time: SR head with laser photo rejuvenation which can be used after depilation to improve skin problems scientifically.
Spa level home hair removal
It is very easy to use and hold and I certainly feel it is a spa level hair removal tool. It does not hurt, and it's been 3 weeks since my first use, I think it's working. I like the SR mode for my skin too.
Definitely works.
I just purchased this item. After a few uses I immediately saw results. This was worth every single penny. I am very happy with my purchase!
Updated device offers UNLIMITED uses!
I am so glad that I went with BoSidin. The updated version that I received is rated for UNLIMITED uses, This was a great surprise.While I have only been using it for 2 weeks now, I can say that it truly is painless. If I missed a spot while shaving I feel a slight snap (like you would feel from a rubber band) when I go over that area, but it is not painful.The rotating head on the BoSidin makes it so easy to reach the back of your legs comfortably and the cooling plate is a very nice touch as well!I will update this review with my hair removal experience after I have completed the recommended 8-10 weeks of sessions.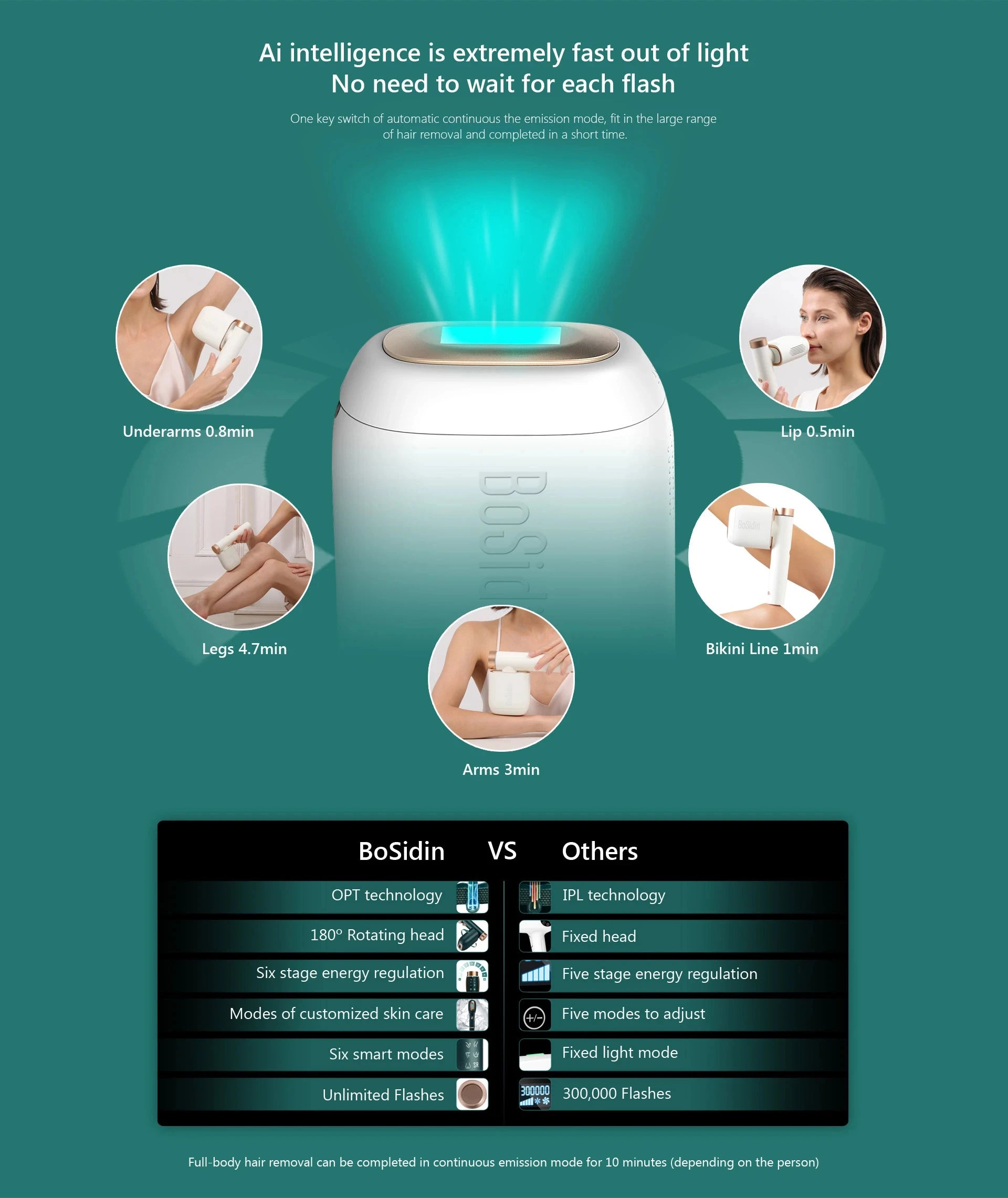 Specifications
Safety Certificate
FDA ※1
Product Size
200*126*51.8 MM
Guarantee
2 Year warranty 180 Days money-back guarantee