addSorry, Only For US Now, Other Countries Are Out Of Stock.
addUnlimited Flashes & Dynamic Cooling & Painless, hair removal for women & men.
addBest laser hair removal in BoSidin, full body treatment only 10 minutes.
addFDA cleared and clinically proven, safe at home laser hair removal.
addBest permanent hair removal: Pubic hair, legs, arms, underarm, facial and SR mode.
addAdvanced OPT hair removal(the benefits of Laser and IPL technology)
First time: Large area depilation can be done without adding attached head. However, for bikini parts to laser hair removal, please use the bikini accessory head. Second time: SR head with laser photo rejuvenation which can be used after depilation to improve skin problems scientifically.
Great quality product. Worth it
Bosidin - Beautiful product presentation and high quality products. At first I thought it would be painful, but not at all, and the cooldown mode is great. I used it for the first time today and it was very easy to follow the directions. I thought it would take me a long time to cover all areas, but it's really quick and easy! Highly recommended so far! I'll be using it in the next few weeks to update the review and see the results.
I am happy with my purchase
I decided to buy this as my own New Year's gift. This product really surprised me, it's so easy to use, I can totally use it myself at home. Because I used to go to the spa a lot to get my hair removed. So this is definitely what I'm looking for. Of course, seeing results requires proper use of the machine and patience. If you are a lazy person, probably not for you. I will keep using it. recommend! !
Easy to use and effective
I chose this product because it looks so easy to use. It's actually pretty simple too, normally I'd skip the instructions, but this time I read the manual thoroughly as this is the first time I've used a hair removal machine at home. It explains everything thoroughly, so I recommend everyone do this first. The package contains everything you need, goggles and a shaver. The shape of the machine and swivel head makes it easier to hold and easy to reach wherever you want to treat. Actually I think the best feature is the auto flash feature, it saves me a lot of time because the feature is easy to use and easy to switch from your legs to your arms etc. I have used the BoSidin machine twice and have seen my hair growth slow down significantly. I am very happy with my results so far. I also love the skin rejuvenation feature, but I've only used it once. Overall, if you're looking for an easy-to-use epilator, or if you're interested in a 2-in-1 machine, then Bosidin is a great option.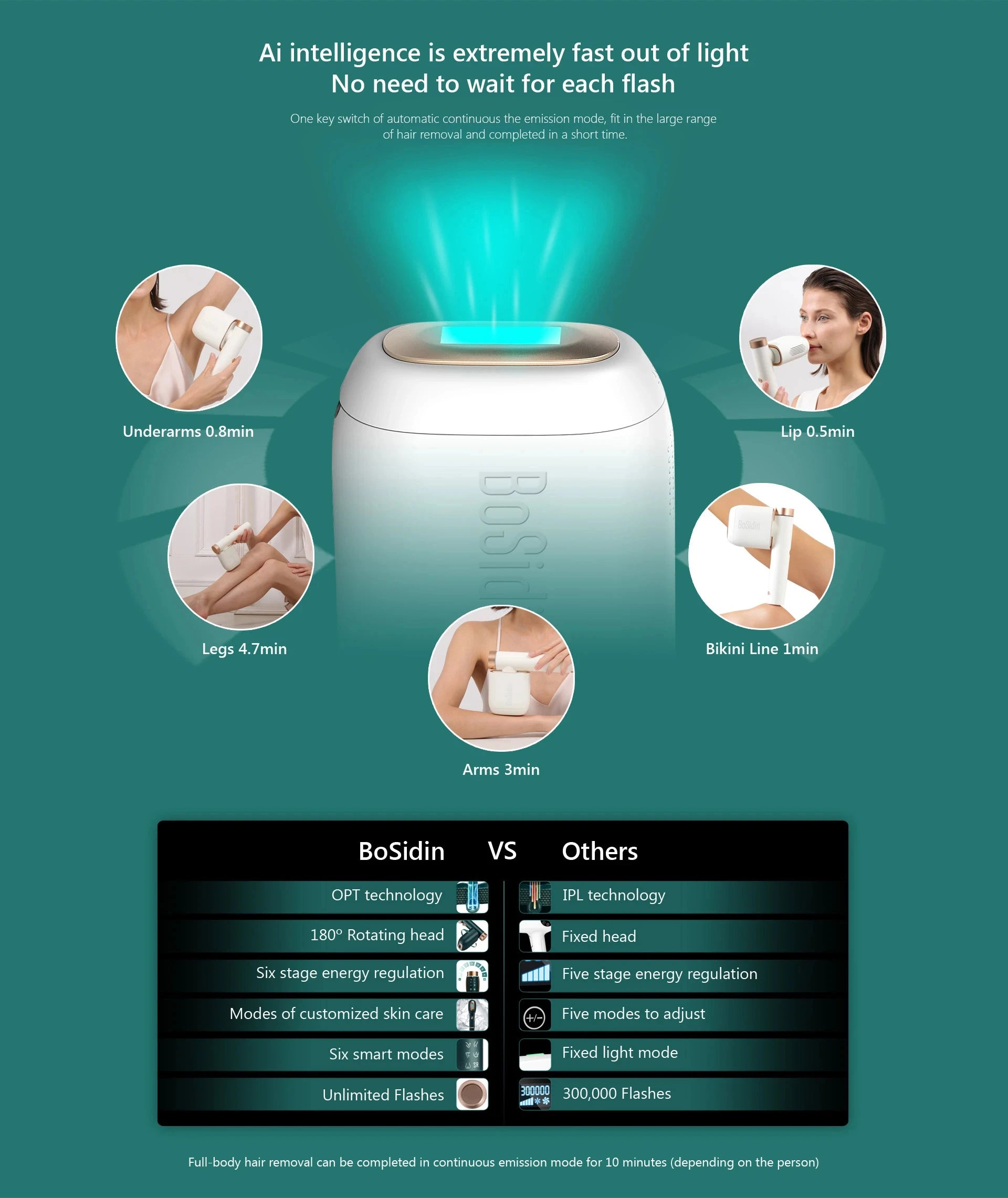 Specifications
Safety Certificate
FDA ※1
Product Size
200*126*51.8 MM
Guarantee
2 Year warranty 180 Days money-back guarantee