addValentine's Day Sale! Sign up and save $40
addUnlimited Flashes & Dynamic Cooling & Painless, hair removal for women & men.
addBest laser hair removal in BoSidin, full body treatment only 10 minutes.
addFDA cleared and clinically proven, safe at home laser hair removal.
addBest permanent hair removal: Pubic hair, legs, arms, underarm, facial and SR mode.
addAdvanced OPT hair removal(the benefits of Laser and IPL technology)
First time: Large area depilation can be done without adding attached head. However, for bikini parts to laser hair removal, please use the bikini accessory head. Second time: SR head with laser photo rejuvenation which can be used after depilation to improve skin problems scientifically.
Good product, but could be a little better
After using bosidin regularly, it reduced the amount of hair on my body. I am happy to find that most of my hair is gone. I still have some light-colored hair left, but I expected it. Basically, it is treated once a week. I like the cooling mode very much. It greatly reduces the pain on the skin. The rotating head can reach all areas. When it comes to privacy, switch to the corresponding mode. I hope that the pulse in the automatic mode can be shot faster, which will make the whole process easier and faster (especially the legs). All in all, I am quite satisfied with this shopping.
I think it's working!
For the past 5-6 weeks, I have been using Bosidin every week to treat my calves, underarms and bikinis. I mainly buy it for my bikini area because I don't have much hair on my legs and underarms. But interestingly, those areas that are almost hairless are where I notice the biggest difference! That may be because there was not much hair there in the beginning-there are almost none now. Maybe my bikini area grows fuller, the effect is not as obvious as the calf. But I will keep a weekly schedule to see what happens next. My ultimate goal is to no longer need to wax in the bikini area. In addition, an undisclosed benefit of using Bosidin is that the broken blood vessels (peechiae) on my calf almost disappeared within a few days of using Bosidin! Previously, these spots took 1-2 weeks to disappear. All in all, I am very satisfied with my investment. I have noticed the results and will continue to use it regularly to reduce hair growth.
Great tool ever
It's the most effective tool I've ever used for hair remove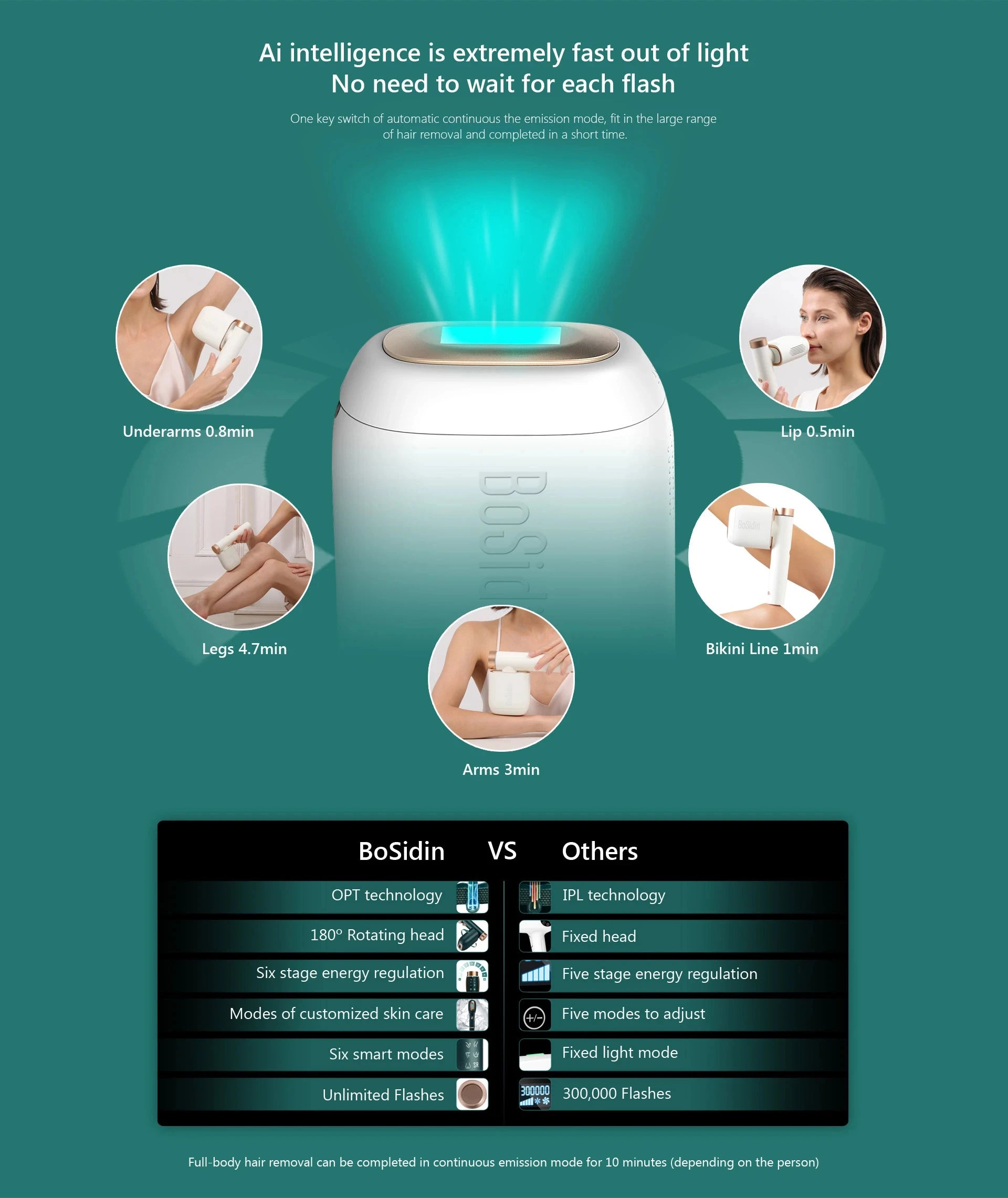 Specifications
Safety Certificate
FDA ※1
Product Size
200*126*51.8 MM
Guarantee
2 Year warranty 180 Days money-back guarantee