addUnlimited Flashes-Longer lasting permanent hair-free results.
addDynamic Cooling & Painless, hair removal for women & men.
addBest laser hair removal in BoSidin, full body treatment only 10 minutes.
addFDA cleared and clinically proven, safe at home laser hair removal.
addBest permanent hair removal: Pubic hair, legs, arms, underarm, facial and SR mode.
addAdvanced OPT hair removal(the benefits of Laser and IPL technology)
First time: Large area depilation can be done without adding attached head. However, for bikini parts to laser hair removal, please use the bikini accessory head. Second time: SR head with laser photo rejuvenation which can be used after depilation to improve skin problems scientifically.
Nice product
Really nice product that work for my skin. I have been using this machine three times, once a week. For now, the hair growth seems like slowing down. And the hair turn to be thinner and lighter. Great product with affordable price. The dark-green color and the design is pretty fashionable. The way to use is convenient with the handle.
Thanks for your support.
We recommend using your BoSidin handset 3 times in 1-2nd week, 1 to 2 times in 3-4th week, once a week in 4-8th week.
Truly pain free
I didn't know what to expect from this hair removal tool. I thought I might feel a little pain when I used it but it is truly pain free. I feel just a little bit of warmth each time the laser pulses. I like that the laser won't pulse if I don't have it touching my arm. I don't need to worry about shooting my eye out.
Save money for SPA at home
This green that I like and has a very texture. It is easy to use and practical. I used it once to remove leg hair .Two weeks passed. The hair grows only a little bit.I love it����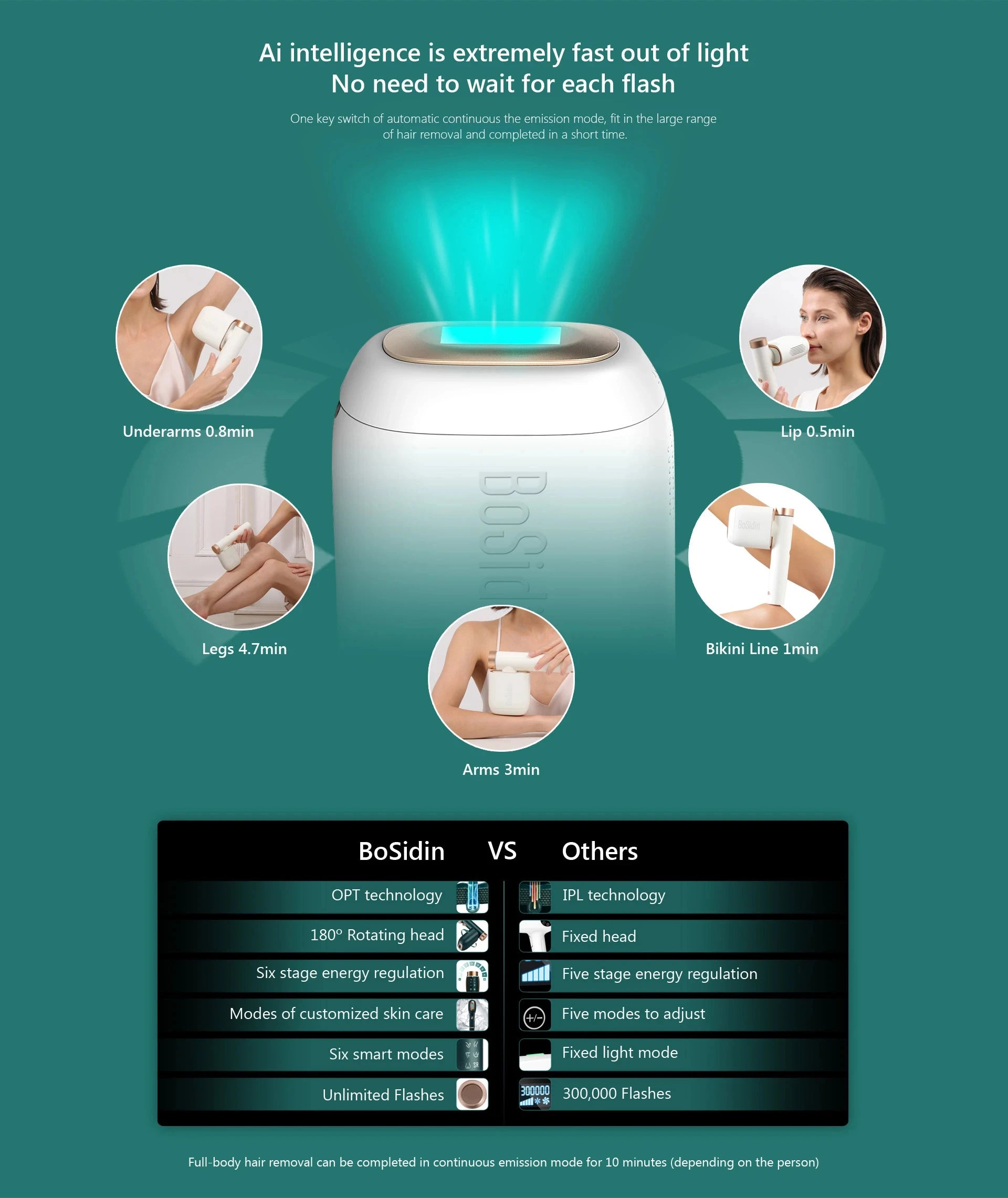 Specifications
Safety Certificate
FDA ※1
Product Size
200*126*51.8 MM
Guarantee
2 Year warranty 180 Days money-back guarantee